Mazurkas Op.24 SHEET MUSIC BY Chopin
Mazurkas Op.24
Chopin
Chopin Sheet Music
811 previous downloads
(Open and click save to download a copy)
811 previous downloads
Open and click save to download a copy
MORE ARTISTS:
More Chopin Sheet Music
---
Free PDF download of Mazurkas Op.24 PIANO SHEET MUSIC BY Chopin
---
This is free piano sheet music for Mazurkas Op.24, Chopin provided by allpianoscores.com
---
The Op. 24 mazurkas by Frédéric Chopin were published in 1836, when the composer was 26 years old.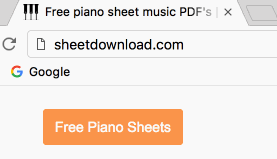 Drag this button to your bookmarks bar. From a Youtube video, click the bookmark to find it's sheet music.