Clair de Lune SHEET MUSIC BY Debussy
Clair de Lune
Debussy
Debussy Sheet Music
24,798 previous downloads
(Open and click save to download a copy)
24,798 previous downloads
Open and click save to download a copy
MORE ARTISTS:
More Debussy Sheet Music
---
Free PDF download of Clair de Lune PIANO SHEET MUSIC BY Debussy
---
This is free piano sheet music for Clair de Lune, Debussy provided by makingmusicfun.net
---
Clair de Lune is a French poem written by Paul Verlaine in the year 1869. It is the inspiration for the third and most famous movement of Debussy's 1890 Suite bergamasque of the same name.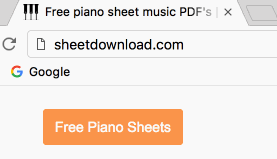 Drag this button to your bookmarks bar. From a Youtube video, click the bookmark to find it's sheet music.