My Immortal SHEET MUSIC BY Evanescence
My Immortal
Evanescence
Evanescence Sheet Music
92,019 previous downloads
(Open and click save to download a copy)
92,019 previous downloads
Open and click save to download a copy
MORE ARTISTS:
More Evanescence Sheet Music
---
Free PDF download of My Immortal PIANO SHEET MUSIC BY Evanescence
---
This is free piano sheet music for My Immortal, Evanescence provided by forpiano.com
---
"My Immortal" is a song by American rock band Evanescence. It was released on December 8, 2003 as the third single from their debut studio album Fallen. The song was entirely written by former guitarist Ben Moody, with the exception of the bridge, which was later added by Amy Lee, and it was produced by Dave Fortman. "My Immortal" was included on their EP releases Evanescence and Mystary and on the demo CD Origin. The version placed on Origin was later included on their first studio album Fallen. The single version of the song was called "band version" because of the additional band performing the bridge and final chorus of the song. "My Immortal" is a piano rock ballad written in slow and free tempo with 80 beats per minute. Ben Moody was inspired to write it by a previous story that happened to him. Lyrically, it talks about "a spirit staying with you after its death and haunting you until you actually wish that the spirit were gone because it won't leave you alone. " Moody later revealed that the song was written for his grandfather Bill Holcomb. Critical reception towards the song were positive with critics complimenting its piano melody. The song became Evanescence's second highest charting single, peaking within the top ten of more than ten countries. It topped the charts in Canada, Greece and Billboard's Adult Pop Songs. The single was certified Gold status by the Recording Industry Association of America (RIAA) and Platinum by the Australian Recording Industry Association (ARIA). An accompanying music video directed by David Mould was filmed entirely in black-and-white in Gothic Quarter, Barcelona on October 10, 2003. The video shows Lee sitting and singing on various location, but never touching the ground. Shots of Moody are also shown but he is never together with his band or Lee. The video was nominated in the category for Best Rock Video at the 2004 MTV Video Music Awards. In 2005 the band was nominated in the category for Best Pop Performance by a Duo or Group with Vocals at the 47th Grammy Awards for "My Immortal". The song was performed by the band during their Fallen Tour and The Open Door Tour. It was also performed live during some of their television appearances and award ceremonies such as the Billboard Music Awards.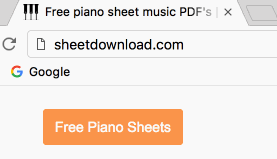 Drag this button to your bookmarks bar. From a Youtube video, click the bookmark to find it's sheet music.