Row, Row, Row your Boat (3) SHEET MUSIC BY Kids
Row, Row, Row your Boat (3)
Kids
Kids Sheet Music
542 previous downloads
(Open and click save to download a copy)
542 previous downloads
Open and click save to download a copy
MORE ARTISTS:
More Kids Sheet Music
---
Free PDF download of Row, Row, Row your Boat (3) PIANO SHEET MUSIC BY Kids
---
This is free piano sheet music for Row, Row, Row your Boat (3), Kids provided by gmajormusictheory.org
---
"Row, Row, Row Your Boat" is an English language nursery rhyme, and a popular children's song, often sung as a round. About this sound Play It can also be an 'action' nursery rhyme where singers sit opposite one another and 'row' forwards and backwards with joined hands. It has a Roud Folk Song Index number of 19236.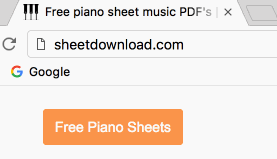 Drag this button to your bookmarks bar. From a Youtube video, click the bookmark to find it's sheet music.