Toccata SHEET MUSIC BY Massenet
Toccata
Massenet
Massenet Sheet Music
1,383 previous downloads
(Open and click save to download a copy)
1,383 previous downloads
Open and click save to download a copy
MORE ARTISTS:
More Massenet Sheet Music
---
Free PDF download of Toccata PIANO SHEET MUSIC BY Massenet
---
This is free piano sheet music for Toccata, Massenet provided by allpianoscores.com
---
Toccata is the second track from Emerson, Lake & Palmer's 1973 album Brain Salad Surgery. It is an arrangement of the 4th Movement of Alberto Ginastera's Piano Concerto No. 1, Op. 28 (1961). The song features heavy use of synthesizers. Both Keith Emerson's keyboard synthesizers and Carl Palmer's newly developed drum synthesizers were used prominently. Alberto Ginastera himself liked the band's rendition very much. A quote from him appears in the liner notes of Brain Salad Surgery saying "Keith Emerson has beautifully caught the mood of my piece".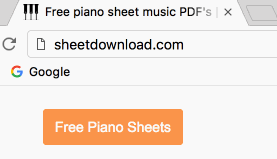 Drag this button to your bookmarks bar. From a Youtube video, click the bookmark to find it's sheet music.