To Where You Are SHEET MUSIC BY Richard Marx
To Where You Are
Richard Marx
Richard Marx Sheet Music
1,607 previous downloads
(Open and click save to download a copy)
1,607 previous downloads
Open and click save to download a copy
MORE ARTISTS:
More Richard Marx Sheet Music
---
Free PDF download of To Where You Are PIANO SHEET MUSIC BY Richard Marx
---
This is free piano sheet music for To Where You Are, Richard Marx provided by forpiano.com
---
"To Where You Are" is a song by American singer Josh Groban that appears on his 2001 debut album. It was written by Alan Menken, Richard Marx and Linda Thompson and produced by Richard Marx.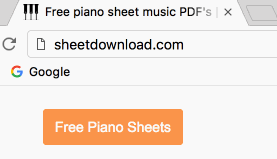 Drag this button to your bookmarks bar. From a Youtube video, click the bookmark to find it's sheet music.