Piano Sonata in E major, D.157 SHEET MUSIC BY Schubert
Piano Sonata in E major, D.157
Schubert
Schubert Sheet Music
1,169 previous downloads
(Open and click save to download a copy)
1,169 previous downloads
Open and click save to download a copy
MORE ARTISTS:
More Schubert Sheet Music
---
Free PDF download of Piano Sonata in E major, D.157 PIANO SHEET MUSIC BY Schubert
---
This is free piano sheet music for Piano Sonata in E major, D.157, Schubert provided by allpianoscores.com
---
The Piano Sonata No. 1 in E major, D. 157 is a piano sonata written in March 1815 by Franz Schubert. Although all three movements of the sonata are complete, it is very likely that in fact the sonata is unfinished, even though some sources may list it as a complete work. There are a couple of factors which constitute strong evidence that the work is incomplete and that a further movement was probably intended to be added. Relatively weakly indicating this is the fact that the last movement is a Minuet and Trio, which was at the time an unusual type of movement to end a sonata with, although not unheard of. This is the last of three movements, and it would have been a little more usual at the time to write a sonata in four movements, although three-movement sonatas are not too uncommon at this time. But a more compelling indication of the sonata's incomplete status is the fact that this Minuet and Trio is in the key of B major, not the sonata's tonic key of E major. It would have been extremely unusual at the time to end a sonata in a key other than its tonic, and it is much more likely that Schubert intended to add a fourth movement in the key of E major, but that he either never got around to doing it, deliberately abandoned any attempt to complete the sonata, or did write this last movement and it has since been lost.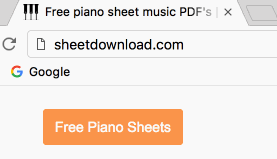 Drag this button to your bookmarks bar. From a Youtube video, click the bookmark to find it's sheet music.