Whenever Wherever SHEET MUSIC BY Shakira
Whenever Wherever
Shakira
Shakira Sheet Music
2,398 previous downloads
(Open and click save to download a copy)
2,398 previous downloads
Open and click save to download a copy
MORE ARTISTS:
More Shakira Sheet Music
---
Free PDF download of Whenever Wherever PIANO SHEET MUSIC BY Shakira
---
This is free piano sheet music for Whenever Wherever, Shakira provided by forpiano.com
---
"Whenever, Wherever" is a song by Colombian singer-songwriter Shakira for her third studio album and English-language debut, Laundry Service. It was released on 27 August 2001 by Epic Records as the lead single from the album. The song was written and produced by Shakira and Tim Mitchell, with additional songwriting from Gloria Estefan. "Whenever, Wherever" is a pop song that incorporates elements of worldbeat and Andean music. Its Spanish-language counterpart "Suerte" (Spanish: "Luck") lyrically discusses how fortunate Shakira is to have found her romantic partner.Upon its release, "Whenever, Wherever" received generally favorable reviews from music critics, who complimented its production. The song became her breakthrough hit in the United States, peaking at number six on the Billboard Hot 100. In doing so, it became her most successful single in the country, though it was eventually succeeded after "Hips Don't Lie" peaked at number one on the chart in 2006. The track additionally topped charts in twenty-nine nations, including in her native Colombia and the majority of Latin America, Europe, and Oceania. Having sold over 8.5 million copies worldwide, the song became the biggest hit of 2001. It is recognized as one of Shakira's signature songs.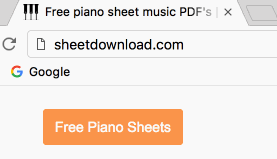 Drag this button to your bookmarks bar. From a Youtube video, click the bookmark to find it's sheet music.