You SHEET MUSIC BY Ten Sharp
You
Ten Sharp
Ten Sharp Sheet Music
5,688 previous downloads
(Open and click save to download a copy)
5,688 previous downloads
Open and click save to download a copy
MORE ARTISTS:
More Ten Sharp Sheet Music
---
Free PDF download of You PIANO SHEET MUSIC BY Ten Sharp
---
This is free piano sheet music for You, Ten Sharp provided by forpiano.com
---
"You" is the name of a 1991 song recorded by the Dutch band Ten Sharp. It was released in 1991 as their debut single from the album Under the Water-Line and became a hit in many countries, including France, Norway and Sweden, where it reached number one on the charts.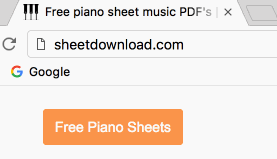 Drag this button to your bookmarks bar. From a Youtube video, click the bookmark to find it's sheet music.