Top Of The World SHEET MUSIC BY The Carpenters
Top Of The World
The Carpenters
The Carpenters Sheet Music
32,623 previous downloads
(Open and click save to download a copy)
32,623 previous downloads
Open and click save to download a copy
MORE ARTISTS:
More The Carpenters Sheet Music
---
Free PDF download of Top Of The World PIANO SHEET MUSIC BY The Carpenters
---
This is free piano sheet music for Top Of The World, The Carpenters provided by forpiano.com
---
"Top of the World" is a 1972 song by The Carpenters. Originally recorded for and released on the duo's 1972 studio album A Song for You, the song topped the Billboard Hot 100 singles chart in late 1973, becoming the duo's second of three #1 singles, following (They Long to Be) Close to You and preceding Please Mr. Postman. Originally intended to be only an album cut for the Carpenters, country singer Lynn Anderson covered the song and was the first to release it as a single. Her version nearly topped the U.S. country singles chart, reaching #2. Karen Carpenter re-recorded the song for the band's first compilation as she was not quite satisfied with the original. In Japan, the song was used as the opening theme song for the 1995 Japanese drama Miseinen. In 2003, it was used for another drama, this time as the ending theme song for Beginner. It appeared on the 2010 soundtrack of Shrek Forever After, as well as in a prominent scene of the 2012 film Dark Shadows, with a performance by the Carpenters seen on a television screen.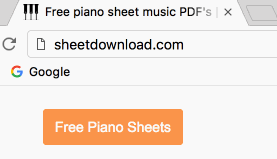 Drag this button to your bookmarks bar. From a Youtube video, click the bookmark to find it's sheet music.